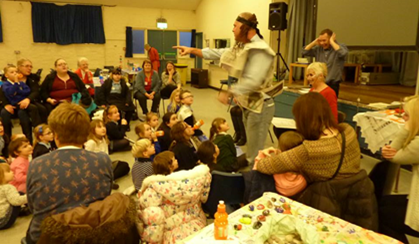 A fun, family friendly event where we share activities, a Bible story and finish with a cooked meal. Something for every month of the year.
---
Christ centred Church, not a craft club. For all ages together. Every element is relevant and accessible to all ages.
Creativity – Hands on activities to explore Bible stories, reflecting on Gods creativity.
Hospitality – God's unconditional love; A church for people outside church. An oasis of welcome and a safe space in which to thrive,  expressed most evidently by eating together.
 Celebration – Reflects a God of joy who wants his people to enjoy life.  Details of our next session at either North Street Hall, Hornchurch or St Matthew's Church, Upminster, are available from our events calendar. 
MESSY HARVEST

  Saturday 25th September.                Session 1   2.00-3.15 pm,         Session 2      3.45-5.00 pm
Please sign up by e mail to the parish office or 01708 441571 by Monday 20th September with the following details:-
Name/s of Adult/s:_________________________
Name/s of Child/Children____________________
Session You wish to attend____________________
Telephone Contact Number____________________
DONATIONS:- This will be a harvest celebration but as we cannot accept packaged goods this year please can you consider the following options:-
1. Cash donations to send to the local Foodbank as we are not able to process actual products this year.
2. To purchase items from the local supermarkets and place at the collection points in the supermarkets.
Please Bring the following items:-
Picnic Mat or rug
Clothing appropriate to the weather
Drink and Snack
Donation if applicable
Save the dates:-

Outdoor Light Party

Saturday 30th October Session 1  3.15- 4.15pm, (4.15-4.45pm Combined Celebration) Session 2 will

continue until 5.45pm.
You may sign up for the Light Party at the same time as the Harvest session if you wish – please state which session you wish to attend.
Outdoor Nativity

Saturday 4th December (afternoon)
Looking forward to sharing in fellowship with you all.