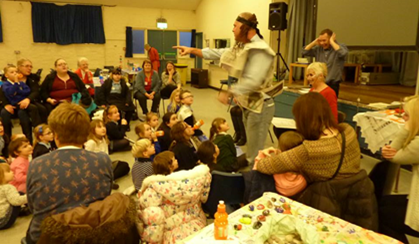 What is Messy Church?
A fun, family friendly event where we share activities, a bible story and finish with a cooked meal.
Messy Church Values:
Christ-centred
Church, not a craft club.
All-age
For adults and children in their care to enjoy together. Every element is relevant and accessible to all ages.
Creativity
Hands-on activities to explore Bible stories, reflecting on Gods creativity.
Hospitality
God's unconditional love; A church for people outside church. An oasis of welcome and a safe space in which to thrive. Messy Church is about hospitality, expressed most evidently by eating together.
 Celebration
Reflects a God of joy who wants his people to enjoy life in all its fullness. To find our next session in either our North Street Hall, Hornchurch or St Matthew's Church, Upminster, please click here to go to our events calendar.
Messy Church Worksheet December 18
If you've been to Messy Church before or not, there is something every month of the year !!
Coming up next is Messy Church in North Street Hall on Thursday 28th February.
Our theme for this month is The Bible. There are many different versions from children to youth versions with simple language, to the King James Bible published in 1611. We will be discovering the different books within the Bible, about kings and laws, life stories and poetry, parables and miracles !
Please come and join us, it's friendly, relaxed and always 'messy' in one way or another !!