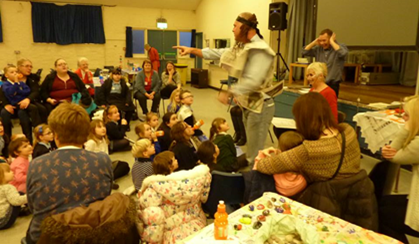 What is Messy Church?
A fun, family friendly event where we share activities, a bible story and finish with a cooked meal.
Messy Church Values:
Christ-centred – Church, not a craft club.
All-age
For adults and children in their care to enjoy together. Every element is relevant and accessible to all ages.
Creativity
Hands-on activities to explore Bible stories, reflecting on Gods creativity.
Hospitality
God's unconditional love; A church for people outside church. An oasis of welcome and a safe space in which to thrive. Messy Church is about hospitality, expressed most evidently by eating together.
 Celebration
Reflects a God of joy who wants his people to enjoy life.  Details of our next session at either North Street Hall, Hornchurch or St Matthew's Church, Upminster, is on available from events calendar.
Messy Cathedral:- Saturday 1st February at St. Paul's Cathedral, St. Paul's Churchyard, London EC4M 8AD from 10.30-1.00pm, go to our Events Calendar using the above link for more information and booking.
There is something every month of the year !! Join in crafts, activities and enjoy drinks and cakes in a relaxed atmosphere. We look forward to welcoming YOU