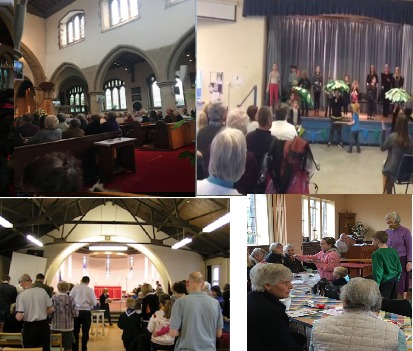 Four Churches, One Vision - Love God, Love Others
St Andrew's
St Andrew's is the heart of Hornchurch and is a church striving to serve the needs of our local area. We offer a warm welcome to everybody who passes through our doors; whether you come to a service, join in with a mid-week group, celebrate the birth of a child, want to marry here, or need support. We offer both traditional Anglican worship and modern contemporary worship to suit all tastes. We are a child-friendly church with Sunday and youth groups to keep your young ones entertained and inspired. We have tea / coffee after the Sunday morning service, please join us.
Midweek Services:
Daily Morning Prayer – 9am
Thursday Holy Communion – 10am
Sunday Services:
8.30am – A quieter traditional service
10.15am – A lively family friendly service, followed by refreshments
6.30pm – A quieter traditional service to end the day with.
St George's Church
St.George's welcomes everyone with a relaxed, informal atmosphere combined with traditional worship. We are situated in Kenilworth Gardens, just a short walk from Hornchurch underground station.
Sunday Services
10.15am – A relaxed and informal traditional service, followed by refreshments.
Messy Church
What is Messy Church?
Messy Church Values:
Christ-centred: Church, not a craft club.
All-age: For adults and children to enjoy together. Every element should be relevant and accessible to all ages.
Creativity: Hands-on activities to explore Bible stories, reflecting on God's creativity.
Hospitality: God's unconditional love; A church for people outside church.
An oasis of welcome and a safe space in which to thrive.
Messy Church is about hospitality, expressed most evidently by eating together.
Celebration: Reflects a God of joy who wants His people to enjoy life in all its fullness.
Services
Please check for exact dates as these services are not run on a weekly basis.
Thursdays 4.30pm – at North Street Halls, Hornchurch
Sundays 11am – St.Matthews Church
Messy Outdoors – St.Andrews Church
Messy Light Party – Every October, St.Andrews Church
Messy Christingle – Every December, St.Matthews Church
St Matthew's Church
St Matthew's is a friendly, family church with a relaxed, informal atmosphere, seeking to love God and love others. We offer a range of services to suit everyone; traditional, contemporary, family, and Dementia Friendly. All of our services offer refreshments either during or after the service.
Saturday Services
3.45pm – Family Pitstop, A space for families to play, learn and grow together. (Every 1st Saturday of the month)
Sunday Services
11am – A family friendly service with refreshments.
6.30pm – Bright Nights, a relaxed and informal contemporary service (Every 3rd Sunday of the month)