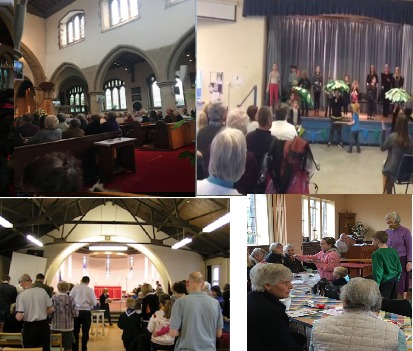 Four Churches, One Vision - Love God, Love Others
St Andrew's
St Andrew's is the heart of Hornchurch and is a church striving to serve the needs of our local area. We offer a warm welcome to everybody who passes through our doors; whether you come to a service, join in with a mid-week group, celebrate the birth of a child, want to marry here, or need support. There is both traditional Anglican worship and modern contemporary worship. A child-friendly church with Sunday and youth groups to keep your young ones entertained and inspired, please join us.
Midweek Services:
Daily Morning Prayer – 9am – online only via our Facebook Page
Thursday Holy Communion – 10am
Sunday Services:
8.30am – A quieter traditional service
10.15am – A lively family friendly service
6.30pm – A quieter traditional service to end the day with.
St George's Church
St.George's welcomes everyone with a relaxed, informal atmosphere combined with traditional worship. We are situated in Kenilworth Gardens, just a short walk from Hornchurch underground station.
Sunday Services
10.15am – A relaxed and informal traditional service, followed by refreshments.
Messy Church
What is Messy Church?
Messy Church Values:
Christ-centred: Church, not a craft club.
All-age: For adults and children to enjoy together. Every element should be relevant and accessible to all ages.
Creativity: Hands-on activities to explore Bible stories, reflecting on God's creativity.
Hospitality: God's unconditional love; A church for people outside church.
An oasis of welcome and a safe space in which to thrive.
Messy Church is about hospitality, expressed most evidently by eating together.
Celebration: Reflects a God of joy who wants His people to enjoy life in all its fullness.
Services
Please check for exact dates on our Events Calendar, as these services are not run on a weekly basis.
Thursdays 4.30pm – at North Street Halls, Hornchurch
Sundays 11am – St.Matthews Church
Messy Outdoors and Messy Goes Wild- St.Andrews Church
Messy Light Party – Every October, St.Andrews Church
Messy Christingle – Every December, St.Matthews Church
St Matthew's Church
Currently no services here but subject to change so please check this page for updates.
St Matthew's is a friendly, family church with a relaxed, informal atmosphere, seeking to love God and love others. We offer a range of services to suit everyone; traditional, contemporary, family, and Dementia Friendly. All of our services offer refreshments either during or after the service.
Saturday Services
3.45pm – Family Pitstop, A space for families to play, learn and grow together. (Every 1st Saturday of the month)
Sunday Services
11am – A family friendly service with refreshments.
3 pm – The Well an informal all inclusive service for able and less able physically or mentally.