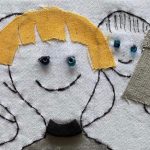 Good Lament and Hard Hope: A Declaration
A partnership project between Chelmsford Cathedral and The Material Girls
Project Postcards – An Introduction and Explanation
You are invited to join in with a community art project.
The aim of the art project is to enable people to express their grief and their hope through the making, sending and displaying of fabric postcards. Members of churches, other faith groups, community sewing and art groups and children's groups are all invited to take part (and others not listed). These postcards will be displayed in an exhibition at Chelmsford Cathedral, hopefully in the summer of 2021.
The making of the postcards is intended to help people express their feelings, to reflect our individual and corporate experiences during this ongoing pandemic. Aside from the two strong themes of lament and hope, the other theme is the environment. The healing power of nature has come to the fore in many people's minds during this pandemic, but also our need to care for, love and tend it better. In the making of these fabric postcards, you are asked to consider the environment, to reuse and recycle material and to avoid any plastics.
If you are interested in this project please go to the website The Material Girls for more details.