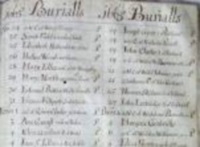 Archive of Baptisms in the Parish of Hornchurch
We have been transcribing the Baptism records of the Parish so that they can be made available for online viewing. Our records start in 1948 and continue to the present day. However this is a time consuming exercise and so it will be some time before all the records are available to view.
It can be difficult to read some entries in the registers and therefore if there are any items which have been incorrectly transcribed, do let the Parish Office know. If you wish to view any Baptism records before 1948, these are available at the Essex Record Centre in Chelmsford.
The Parish Office can provide a photocopy of the actual entry in our register. This service currently carries an administration cost for the search and certificate, please contact us for further details.
The Baptism PDF documents available are:
Baptism records for 1948 Baptism records for 1949 Baptism records for 1950 Baptism records for 1951 Baptism records for 1952