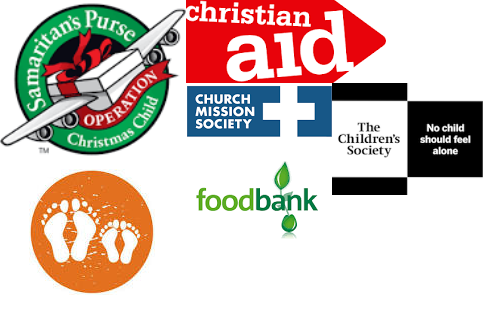 Parish Mission Statement
We strive to:
Love God.
Grow in faith and understanding.
Bring others to knowledge of and faith in Jesus Christ.
Serve the community.

Why have Mission partners?
We are passionate about joining in with God's mission in the world. We want to follow the example set in Christ of going out and sharing our time, our love, our gifts, in fact all that we have to offer with others. We believe in helping our neighbours both locally and globally.
Why not join us and get involved?
FoodBank
We are committed to helping those in need. A Foodbank donation point has been in St Andrew's Church assembly area since 2013. We also collect food during our annual Harvest services. We encourage people to give some treat items as well as the very much needed basics. Over the last three years we have collected food weighing in total:  2015 – 1,021 kg, 2016 – 1,055 kg, 2017 – 1,120 kg. Once collected the foodbank ensures it reaches those in most need of help.
Standby Me and Charity of the Month
Stand by Me charity
Our local charity! Set up by a Hornchurch teacher in 1995 after visiting Lebanon and seeing children who needed help. He didn't know how he was going to do it, but committed to caring for 60 orphaned boys, and in doing so the foundations for the charity began. Since then they have rescued over 10,000 children across 11 countries. This is child-centred care, which begins with considering the needs of the child, their family and their community. For more information please visit their site www.standby.me
Charity of the Month
Each month a charity is selected to raise awareness of situations.  News from charities supported is displayed in the entrance to St Andrew's church. People viewing displays are encouraged to contact the charity of the month directly to get regular news and to Gift Aid their donation.
Some of the charities we have supported are :
Mission Aviation Fellowship, Freedom from Torture, Hope 4 Havering, Safari (church holiday club), Mission to Seafarers, Tools with a Mission, Church Army, Renew Counselling, Flood Awareness.
Would you like to suggest a charity for the church to support? Please contact us.
To contribute to any of the charities in the coming year please delivery a cheque payable to 'Hornchurch PCC' (write on the back charity it is for) and place in our letterbox at St Andrew's, or donate to them directly via their websites.
Stitches of Hope
For many years the parish has been avidly knitting anything from blankets, jumpers, scarfs to cardigans in all sizes. These are taken to Christian Hope International in Harold Hill whom put it together with items collected by many other churches. All these lovely items are then shipped to Eastern Europe to help those whom do not have warm items for the cold nights and winter months. This may be families or orphanages and anything in between. If you want to know more or get details on how you can help, please contact Christian Hope International.
Samaritans Purse Shoebox Appeal and Children's Society Christingle Appeal
Shoebox Appeal (Samaritan's Purse Operation Christmas Child)
A small shoebox can have a big impact. What goes into the box is fun, but what comes out of it is eternal. Be a part of changing children's lives all over the world in Jesus' name through the power of a simple gift with Operation Christmas Child.  See the impact a simple shoebox gift packed and sent with love, has on a child and how it reaches into a community.
We have been supporting this wonderful charity since 2010 and in 2017 we became a drop-off point for boxes. Last year we collected an amazing 383 boxes! In late November each year, Samaritan's Purse collect our boxes to be sent to orphanages around the world.
"The mission of Operation Christmas Child is to show God's love in a tangible way to needy children around the world and, together with the local church worldwide, to share the good news of Jesus Christ. Since 1990, more than 146 million children in over 150 countries have experienced God's love  through the power of simple shoebox gifts from Operation Christmas Child." For more details please visit their site:Operation Christmas child What we do
Children's Society – Christingle Appeal
Every December of each year we take part in the Children's Society Christingle Appeal celebrating the birth of Christ and raising funds that are used towards helping children know that they are not alone this Christmas.
During the service the children are given an orange Christingle (whole orange with red ribbon around the middle, a centre candle and sweets, representing Jesus light of the world Who shed His blood for us).
"When children face a crisis we are with them step-by-step, for as long as it takes, making small changes that make a big difference. We worked with over 11,000 vulnerable children and young people last year, while our policy changes will improve the lives of more than half a million children". For further details about this charity please visit their website Children's Society