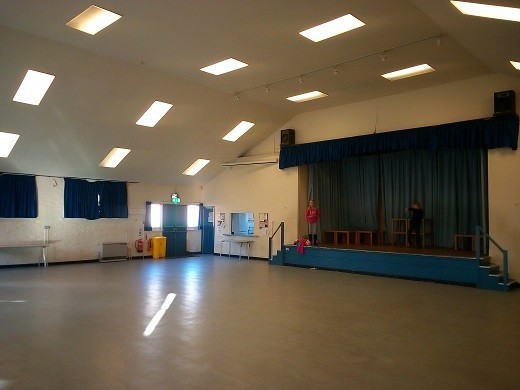 Hiring of the hall is between 10am (earliest start time) - 10.30pm (must vacate hall by 11.00pm), except Sunday when we do not hire the hall

Spacious hall with good facilities, bright and airy. Includes a small stage. There is a small park car to the side of hall with 3 spaces, other local car parks are available.
Hall Type: village hall      Year Refurbished: 2000     Overall Capacity: 250           Seating Capacity: 110
Facilities
Staging, Main Hall, Kitchen, Toilets, Disabled Toilets, Baby Changing Facilities, Wheelchair Access, Parking
Equipment
Fridge, Kettle, Cooker, Microwave, Piano, Fire Alarms, Cups and saucers (limited numbers), Hot water boiler for drinks, Tables, Chairs
Fees 2021
All hires incur a caretaker and damage deposit fee
Caretaker up to 7.30pm – £57
after 7.30pm – £110
Refundable damage deposit – £250
Monday – Friday      £42 per hour
Saturday                  £51 per hour
Children's parties up to age 11 – £150 for 3 hours
(must finish before 7.30pm and includes caretaker fee)
How To Book
If you would like to hire this hall, please fill in the form below. Fill in your name, email, contact number and some details about why you would like to hire the hall. If you would like to book a specific time slot then please specify the time slot in a 24 hour clock format.
Please note, if you are trying to book on an ipad or iphone, you may have difficulty seeing the currently booked time slots. If this is the case, please email or phone the parish office.