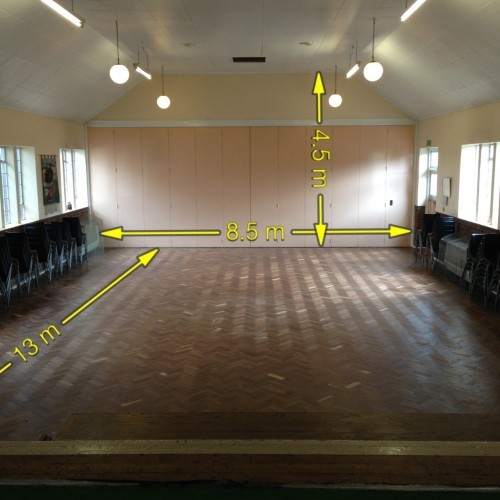 The hall is not available for hire on Sundays.

This hall is great for hiring for children's parties and daytime events such as exercise classes, community meetings, societies and clubs, music event, baby groups. Regular bookings for daytime and evening events are welcome, but we do not hire for contact sports.
Capacity 100   Built 1948
Equipment
Urn, Fridge,  Kettle, Cooker, Microwave, Piano, Black-Out Facility, Projection Screen, Tea Crockery
Facilities
Staging, Main Hall, Small Hall, Entrance, Kitchen,  Accessible Toilets, Changing Facilities, Wheelchair Access, Parking
Fees 2021
All hires incur a damage deposit fee; Refundable damage deposit – £250
Monday – Saturday           rates on request
Children's parties up to age 11 – £150 for 3 hours (must finish before 7.30pm, includes caretaker fee)
How To Book
If you would like to hire this hall, please fill in the form below. Fill in your name, email, contact number and some details about why you would like to hire the hall. If you would like to book a specific time slot then please specify the time slot in a 24 hour format.
Please note, if you are trying to book on an ipad or iphone, you may have difficulty seeing the currently booked time slots. If this is the case, please email or phone the parish office.