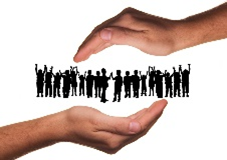 SAFEGUARDING IS EVERYONE'S RESPONSIBILITY – LOOKING THE OTHER WAY IS NEVER AN OPTION

The Parish of St. Andrew's, Hornchurch, Safeguarding Policy
PROMOTING A SAFER CHURCH
This policy was agreed on  25/05/2023  at the Parochial Church Council (PCC) meeting.
In accordance with the Church of England Safeguarding Policy our church is committed to:
Promoting a safer environment and culture.
Safely recruiting and supporting all those with any responsibility related to children, young people and vulnerable adults within the church.
Responding promptly to every safeguarding concern or allegation.
Caring pastorally for victims/survivors of abuse and other affected persons.
Caring pastorally for those who are the subject of concerns or allegations of abuse and other affected persons.
Responding to those that may pose a present risk to others.
The Parish will: 
Create a safe and caring place for all.
Have a named Parish Safeguarding Officer (PSO) to work with the incumbent and the PCC to implement policy and procedures.
Safely recruit, train and support all those with any responsibility for children, young people and adults to have the confidence and skills to recognise and respond to abuse. (Safer recruitment procedures)
Comply with Data Protection Principles – specifically with reference to storing information about the 'church workforce', including volunteers, who have completed a confidential declaration and/or undergone DBS checks and for Safeguarding Agreements of offenders and others who may pose a risk.
Ensure that there is appropriate insurance cover for all activities involving children and adults undertaken in the name of the parish.
Display in church premises and on the Parish website the details of who to contact if there are safeguarding concerns or support needs.
Listen to and take seriously all those who disclose abuse.
Take steps to protect children and adults when a safeguarding concern of any kind arises, following House of Bishops guidance, including notifying the Diocesan Safeguarding Adviser (DSA) and statutory agencies immediately.
Offer support to victims/survivors of abuse regardless of the type of abuse, when or where it occurred.
Care for and monitor any member of the church community who may pose a risk to children and adults whilst maintaining appropriate confidentiality and the safety of all parties.
Ensure that health and safety policy, procedures (activity plans) and risk assessments are in place and that these are reviewed annually.
Review the implementation of the Safeguarding Policy, Procedures and Practices at least annually.
Each person who works within this church community will agree to abide by this policy and the guidelines established by this church.
This church appoints Eileen Morris & Lynne Girkin as the Parish Safeguarding Officers
Incumbent       . . . . . . . . . . . . . . . . . . . . . . . . . . . . . . Rev. Ken Wylie
Churchwardens. . . . . . . . . . . . . . . . . . . . . . . . . . .      Jeremy Shearmur
. . . . . . . . . . . . . . . . . . . . . . . . . . . . .   Nigel McCarren
If any leader or other person in the church is aware of a criminal offence being committed or likely to be committed against a child or vulnerable person at any time, they must call the police immediately. They should then contact the Parish Safeguarding Officers as soon as possible.
If you need advice regarding any safeguarding matter, contact the Parish Safeguarding Officers.  If more help is needed, they will contact the Diocesan Safeguarding Team (DST) whose job it is to offer advice, guidance and support in all situations in which a child or adult may be at risk.  If there is no response from the Parish Team and the matter is urgent contact the Diocese Safeguarding Team.
If a child or adult is in immediate danger, or requires immediate medical attention, call the emergency services on 999. Do not delay.
Parish Safeguarding Officers (PSO) – Eileen Morris & Lynne Girkin
Tel:01708 441571
email: child.safeguarding@parishofhornchurch.co.uk
Diocesan Safeguarding Team
General Safeguarding Enquiries: 01245 294490
Duty Line for urgent matters only  24/7  01245 294444
email: safeguarding@chelmsford.anglican.org
Useful Contacts:
Safeguarding contact details for London Borough of Havering 
Children's Services:  Child protection team Monday to Friday (9am to 5pm) – 01708 433222
Out of hours/weekends – 01708 433999
Adult Services: Safeguarding adults team 01708 433550 Email safeguardingadultsteam@havering.gov.uk​
National Helplines
Childline: 0800 1111
NSPCC: 0808 500 8000
Domestic Violence Helpline: 0808 200 0247
MACSAS (Ministers and clergy sexual abuse survivors): www.macsas.org.uk
Mencap Learning Disability Helpline: 0808 808 1111
VOICE UK (For people with learning disabilities who have experienced crime or abuse): 0808 802 8686
StopItNow! (For anyone who may need help preventing abuse, even in themselves): 0808 100 0900
Women's Aid (Seeking to end domestic violence against women and girls): www.womesaid.org.uk
Samaritans: 08457 909090